Delivery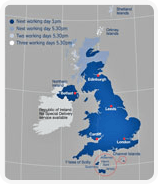 As part of our secure delivery service, OnlineClinic offers free delivery to all of our customers in the UK and Europe. Shipping to Switzerland will incur a charge of £19.99. Please note that we do not ship any medicines to the USA.
UK delivery
If you order within the UK, your order will be sent using Royal Mail's Next Day Delivery service, a free service which guarantees delivery to any destination within the mainland UK the following day (including Saturday), providing orders are placed before 4.30pm Monday to Friday. If you place an order after 4.30pm on Friday, it will arrive on Tuesday.
Your package may require a signature. This can be from yourself personally or a family member, colleague or friend.
Note: We cannot deliver to Northern Ireland or the Channel Islands.
Age Verification
As an online healthcare provider, it is important that we confirm your identity and that you are at least 18 years of age. Checks are carried out against information you provide including but not limited to your name, address and date of birth on national identity registers at the time of registration and may be carried out on future occasions should there be any discrepancies in your details as time go on. To make the process as easy as possible, all checks are carried out behind the scenes as part of the registration and ordering process, requiring no action on your part. However, it is important that you provide your personal address, even if your delivery address is different, at the time of ordering.
Should we be unable to verify your age based on the details you have provided, you will be contacted by a member of our customer service team to discuss other options to verify your age.
The age verification services for OnlineClinic are provided by GBG Group plc.
Packaging your order
At OnlineClinic, we have the highest respect for your privacy and we understand that you probably would not want to have details of the contents of your order detailed on the packaging. This is why we send all of our orders in tamperproof boxes which will not mention either OnlineClinic or the contents on the outside of the box. This box is then sent to you in a standard courier envelope, which again will not contain any information about the contents. It will simply state your name and address, a tracking number and logo for either UPS or the Royal Mail and a return address.
How to track your order
Don't have your tracking reference number?
Your package will require a signature, and this can be from yourself personally or a family member/friend.
Please note that it is not possible to deliver medication to forwarding centres of any kind.