Reductil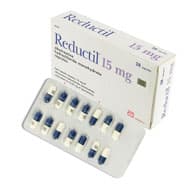 The medical team at OnlineClinic.co.uk will no longer be offering the drug Reductil (sibutramine) as a method for the treatment of obesity. For alternative treatment options, click here.
Reductil was an anti-obesity medication prescribed to assist with weight loss. The active ingredient of Reductil is sibutramine which worked by stimulating chemicals within the nervous system. In doing so, it increased the feeling of being "full" which you would normally feel from eating a meal. This meant that it could effectively assist in weight loss because you would've wanted to ingest less food.
However, Reductil was linked to dangerous cardiovascular events, such as heart attacks or strokes, and as such the MHRA (Medicines and Healthcare products Regulatory Agency) removed the treatment as safe for assisting weight loss and treating obesity. At present, the only prescribed medication to assist with those conditions is Xenical.
Why is Reductil considered an unsafe treatment?
Unlike Xenical, which blocks fat from being absorbed during digestion, Reductil works by affecting the neurotransmitters noradrenalin and serotonin. These two transmitters are responsible for moderating mood, including appetite. By preventing these from being reabsorbed into the nerve cells, and therefore increasing their levels within the body, the feeling of fullness is also increased.
While this fact made the treatment highly effective for helping patients to lose weight, there was a rise in cardiovascular problems as a result. The exact link between the methodology of Reductil and these risks has not been established. However, in a study conducted by its manufacturer Abbott Laboratories in 2002, evidence suggested a clear increase in occurrence of events like heart attacks and strokes in nearly 10,000 test patients in the six year trial.
Is it still possible to buy Reductil online from OnlineClinic.co.uk?
No. OnlineClinic.co.uk is 100% committed to ensuring the highest level of safety for all our patients while conforming to the EMA's regulatory guidelines. It is for this reason that we are no longer able to provide our patients with Reductil online. While there are undoubtedly other websites that advertise the availability of Reductil, they are doing so illegally and any sale or distribution of this treatment would be equally illicit.
Is there any alternative to Reductil that I can purchase?
Yes. Xenical is the only effective prescription weight loss medication available for purchase. It's been used effectively and safely to help treat obesity and assist people with high fat diets to lose weight.
Xenical vs. Reductil
Xenical
Reductil;
Active Ingredient
Orlistat (tetrahydrolipstatin)
Sibutramine (hydrochloride)
Where it works?
Digestive Tract
Brain/Nervous System
How does it work?
Attaches itself to digestive
Prevents noradrenalin and

enzymes called lipases.

Blocks them from absorbing
excess fat (approx. 30%).

serotonin from reabsorbing through nerve cells.

Acts as an appetite suppressant.

Tricks the body into thinking it's already full, lowering your calorie intake.

Effectiveness?

Over 70% of patients lost more than 10% body weight within 12 months.

77% of patients lost a significant amount of weight while taking Reductil.

Side Effects?

Oily/loose stools and flatulence as a result of the unabsorbed fat.

Can reduce your intake of vitamins A, D, E and K.

Severe increase in risk of cardiovascular problems and heart disease.

Possible depression and mood changes as a result of serotonin function.

Insomnia and increased blood pressure.
Why is Xenical considered a safer treatment?
Xenical is the only MHRA approved medication for treating obesity and assisting in weight loss on the market at the moment. Because of its high success rate and relatively small level of side effects, it's become very popular amongst both men and women.
Xenical works within the digestive tract by stopping fat from being absorbed into the body. Whereas Reductil changes the chemical levels in the brain, Xenical only functions in the colon and has no other influence on the body. This means that it does not induce any potentially harmful psychological side effects like depression or insomnia, like some patients of Reductil have previously experienced.
Testimonials
I've been using Xenical for over three months now and I've gotten great results. It can be off putting with the main side effect being something like ones loo habits, but it's more than manageable.
I experimented with Reductil for a while before it was taken off the market. However, due to the extreme mood swings I experienced while taking this medication, my doctor recommended that I change to an alternative treatment like Xenical, which wouldn't affect my nervous system. So far my mood swings have disappeared, and I've continued to use Onlineclinic's services to buy my Xenical treatments.